El Faro, the Civic Pavilion in its exposition site, was constructed by Expoagua Zaragoza 2008 S.A. in accordance with the memorandum (MOU) agreed on 24 January 2007 between Toshio Nakamura, Secretary General of the Japan Association for the 2005 World Exposition, and Jeronimo Blasco, Consortium Director of the Expoagua Zaragoza 2008 S.A., with the aim of succeeding the citizen's initiative project germinated in the Expo 2005 Aichi Japan. Such was the first-ever citizen's participation format in the past history of world expositions.

The pavilion, operated by ECODES, a Spanish NPO foundation (Director: Victor Vinuales Edo) was open for all NPOs worldwide. During the two weeks (14-27 July) centering on the Japan Day of 21 July, GISPRI conducted a variety of programs at the show space (all-day), workshops (17:00-20:00) and amphitheater (15:00-17:00.) With NGO unit joining for the first half period (14-20 July) and civic unit for the latter half (21-27 July), a total of more than seventy members including the staffs and other relevant people from all across Japan (mainly from the Aichi region) gathered in Zaragoza to play a part in this project.

The primary purpose of this civic hands-on project was to promote "dialogue and exchange." All the events in the venue were implemented in an attempt to invite active participation from visitors, of which result was the highest ever turnout recorded in the Japan Week since the opening of El Faro.

The entire two-week programs culminated in the successful closing event on a Sunday night (27 July at 20:00-22:00) with a joyful cheering from the musical cast.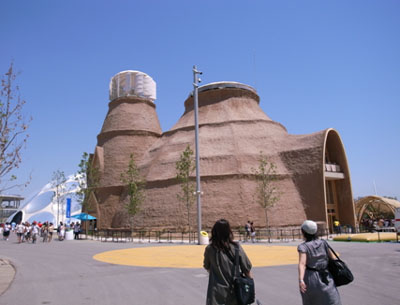 A citizen-led pavilion, El Faro, in full view




Full audience of the amphitheater in El Faro