GISPRI presented an original child-friendly musical entitled "Mañana" (Tomorrow in Spanish) featuring Morizo and Kiccoro, the official mascot characters of Aichi Expo 2005 Japan as well as Fluvi of Zaragoza Expo 2008 at Balcon de los Ninos in the Exposition site on 22-24 July 2008. Upon the request from the Expoagua Zaragoza to add encore show, the production ran for seven performances for three days starting from 22 July and attracted over 2,600 visitors in total.

It was performed in Spanish language to convey our message: "bring back rich forests and clean water for the future together." Musical creators were as follows: books/choreography/lyrics by Naoki Takeda; sound director/original score by Akiko Kosaka; producer/Atsushi Nomura, among others.

The Spanish-version musical premiered on 22 July 2008 in the presence of His Imperial Highness the Crown Prince of Japan with around fifty local children. Their photo-shoot was staged after the show with the appearance of Morizo, Kiccoro and Fluvi, the leading characters.

Mr. Fujimura, the representative of the Aragonese Japan Cultural Society, offered us a help in mobilizing the children.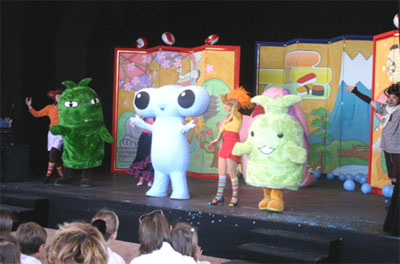 A scene at the musical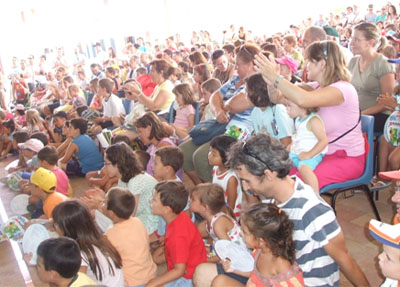 A jam-packed performance